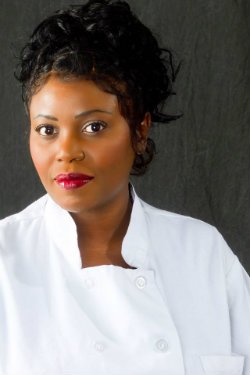 A native of the twin-island nation of Trinidad and Tobago, Chef Donna-Mae Gibson is the founder, owner, and Executive Chef of Catering by DoNia, a Maryland-based catering service.  With over 25 years of professional culinary experience, Chef Donna is known for her tasty creations, presented with style and elegance.  While her training and experience allow her to offer a variety of continental and international delights, Chef Donna specializes in authentic Caribbean cuisine.  Clients are assured of beautifully prepared signature dishes that appeal to the senses of taste, smell, and sight.  Beyond cuisine, however, Chef Donna's presentations, underscored by ambiance, play a significant role in the success of the catering events that she spearheads.
In her capacity as Executive Chef, she provides general management services for the execution of various mobile catering events, including formal weddings, banquets, corporate affairs, outdoor socials, political rallies, and private parties.  Menu planning, artistic presentations, and personalized customer service are just a few of the benefits many have come to expect from Chef Donna. A routine day includes consultations with clients and event coordination, providing expert advice and input for decision-making, maintaining a thorough checklist of critical culinary tasks and monitoring their execution, assisting in the selection of various service vendors, and transforming any space into an elegant banquet area.
Chef Donna manages a catering staff in excess of 20 individuals, who can attest to her thorough, no-nonsense approach to business.  Among her satisfied clients are the Maryland Democratic Party; NASA/Goddard Space Flight Center; The National Institutes of Health; the North American Division, Columbia Union Conference, and General Conference World Headquarters of Seventh-day Adventists; The Embassy of St. Lucia; The Embassy of the Republic of Trinidad and Tobago; and many private benefactors.  Chef Donna's commitment to her clients includes beginning each day with nature's freshest ingredients, allowing her to present culinary services of the highest quality.